Focus on Uranium by Clin d'oeil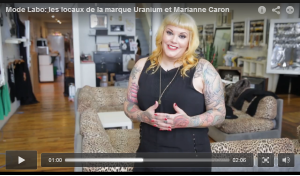 Last January, Clin d'oeil dedicated an article done before the merge with Agence KA with Uranium, presenting the past environment of the designer Marie-Eve Ruel
Created in 1998, Uranium is specialized in men and women jewelry. Marie-Ève identifies Uranium as "a positive brand" with very important "human values"
Visit the link below to learn more about the compagny. You will also find Uranium's interview there.
http://clindoeil.ca/mode/cest-hot/mode-labo-les-locaux-uranium-avec-marianne-caron-video
Since Katia Dion took up the reins of Uranium, Marie-Ève now can totally focus on the creation and design of her collections. Get ready for the new 2015 fall-winter collection !
Uranium has established their new workshop and show room  at 433 Chabanel Street West.